Jenn Ludwig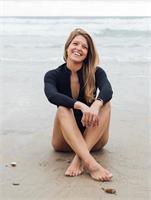 Jenn was born and raised in the Midwest, but her heart and soul belongs to the ocean. So, she graduated college as early as possible and jetted off to Oahu, Hawaii. For three years, she immersed herself in surfing, SUPing, hiking, ocean swimming, scuba diving, and practiced healthy living through mindfulness and being open to new ways of living. It was also when she took her first yoga class. She was hooked and yoga has been a huge part of her life ever since. Jenn has been sharing and teaching her passions for the past 15 years. This year, the stars aligned and it was the perfect timing for Jenn to compete her 200 hour yoga teacher training so that she could start sharing her love of practicing yoga with others. When Jenn's not teaching yoga classes, you can find her capturing candid moments at retreats around the world, and helping others build their brands and follow their dreams.
Jenn Ludwig instructs the following:
It's time to sweat! This is a challenging, heated class which includes more advanced postures, arm balances and inversions. Students can expect an exhilarating and inspiring class.




Join us for this amazing flow that will leave you inspired. All levels welcome. Enjoy the the true meaning of Vinyasa; tap into the breath/movement and find a new level of motivation.