Laura Pushkar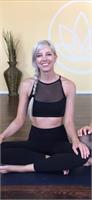 Laura has been practicing yoga since 2010 and has a background in gymnastics. She was captivated from her first vinyasa class and knew it would be a constant staple in her life. Laura hopes to inspire others to ignite the same desire for their yoga practice as well through genuine positivity and encouragement.
Laura Pushkar instructs the following:
Join us for this amazing flow that will leave you inspired. All levels welcome. Enjoy the the true meaning of Vinyasa; tap into the breath/movement and find a new level of motivation.




This intermediate level class, while still challenging, promotes relaxation. It provides the opportunity to broaden your strength and focus in a blissful environment and encourages you to move at your own pace and be kind to your body.