Toby Woods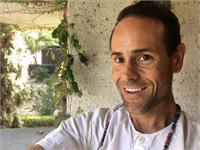 Toby is a 200 hour certified yoga instructor with M.S. in Biomedical Sciences from Cornell University. Anatomy, medicine & holistic healing are his emphasis. His classes offer challenge, observation, and poise; self-discovery via breath-work, asana & meditation. He lives in La Jolla & enjoys surfing & rock climbing. "Yoga is my medicine. It is my core, it is my root. Adventure is my passion. Teaching is my everything."
Toby Woods instructs the following:
This class is for all levels that focuses on building strength, flexibility and relaxation while finding inspiration.




Join us for this amazing flow that will leave you inspired. All levels welcome. Enjoy the the true meaning of Vinyasa; tap into the breath/movement and find a new level of motivation.