Hana Pepin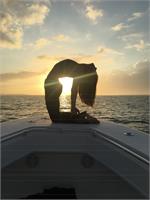 Certified ERYT-500 Hana teaches students about how to achieve contentment in postures, yoga, work and relationships. Her classes are informative about alignment, breath, and intention setting to create a holistic and healthy lifestyle.
Hana Pepin instructs the following:
This class is about passive postural holds to increase blood circulation as well as flexibility while allowing the mind to dive deeper in a more meditative state, cultivating silence and peace of mind. It's time to release physical, mental, and emotional stress and compliment your power vinyasa practice.




This class is for all levels that focuses on building strength, flexibility and relaxation while finding inspiration.