Erica Butterfield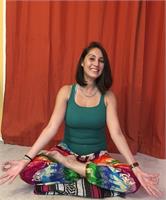 Erica found yoga at the perfect time. Overwhelmed by a packed schedule, she was looking for something to bring a little more balance to her life. Yoga was the perfect answer! She found that she was less anxious and felt more capable at handling the stresses of everyday life. Erica completed her 200-hour training in San Diego and immediately wanted the opportunities to share her love with yoga. She firmly believes that there is a yoga style/teacher out there for everyone. Her classes will make even the most apprehensive yogi feel welcome as they are accessible to all levels. Her warm energy and excitement for sharing her passion shows through her mindful and fun flows. Erica loves vinyasa yoga because it is easy to focus on the breath to movement meditation that often occurs in class. Erica is also trained in trauma based yoga and restorative.
Erica Butterfield instructs the following:
Rejuvenation is the focus of 60 minute flow that will leave you inspired. All levels welcome. Enjoy the the true meaning of Vinyasa; tap into the breath/movement and find a new level of motivation under the relaxation of candlelight.




This intermediate level class, while still challenging, promotes relaxation. It provides the opportunity to broaden your strength and focus in a blissful environment and encourages you to move at your own pace and be kind to your body.