Kendra DeSelms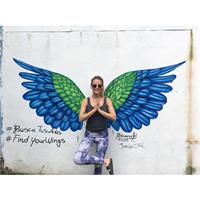 KD DeSelms is a creative, enthusiastic yoga instructor specializing in vinyasa flow. She has been practicing yoga since the age of 8 and has practiced all over the world including Costa Rica, HI, Cancun, and Spain. KD moved to San Diego in 2010 to obtain a degree in Sustainability from SDSU and instantly fell in love with the yoga community in Southern California. KD loves teaching yoga because it has made her feel like her best self and she wants to share this feeling with others. Her classes will take you deeper mentally, challenge you physically, and awaken you spiritually.
Kendra DeSelms instructs the following:
This intermediate level class, while still challenging, promotes relaxation. It provides the opportunity to broaden your strength and focus in a blissful environment and encourages you to move at your own pace and be kind to your body.




This class is for all levels that focuses on building strength, flexibility and relaxation while finding inspiration.