Hailey Young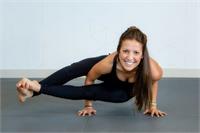 Hailey entered her first yoga class during college in hopes of discovering some sort of stress relief from her heavy class load. She was immediately hooked to everything yoga had to offer, and began to take classes regularly from that point on. With a background in Kinesiology, she became a yoga teacher in hopes of building a better knowledge of the anatomy of yoga and what it had to offer physically. After getting deeper into the spiritual and mental aspect, such as breath work and meditation, she knew right away that she wanted to share her experience with others. Hailey immediately developed a strong passion for teaching and watching her students grow, as well sharing her appreciation for yoga with others.
Hailey Young instructs the following:



This class is for all levels that focuses on building strength, flexibility and relaxation while finding inspiration.




Join us for this amazing flow that will leave you inspired. All levels welcome. Enjoy the the true meaning of Vinyasa; tap into the breath/movement and find a new level of motivation.